In the 21. century dating has change

d

f

undamentally

.

We have the option to meet persons in the reality and also in the digital worldin the Internet.

T

oday

i

t´s possible to find a relationship on

many

different

d

ating services

and apps.

Most of t

hose

online dating platforms have similar functions. They

include

a user profile with images, a chat

to

contact other

s

, a filter and a match system.

But how

will

a dating app

look

,

if

i

t only has

a

minimalist

selection of function – like voice?

The project "Voice Love" is dedicated to this thought.
The filter settings are reduced to a minimum of c

hoice.

Therefore the users can set their own gender (female, male or other).

Then they can choose

in whom they are interested

and a range of age f

or their

search.

This is the foundation needed to evolve an interest in a person.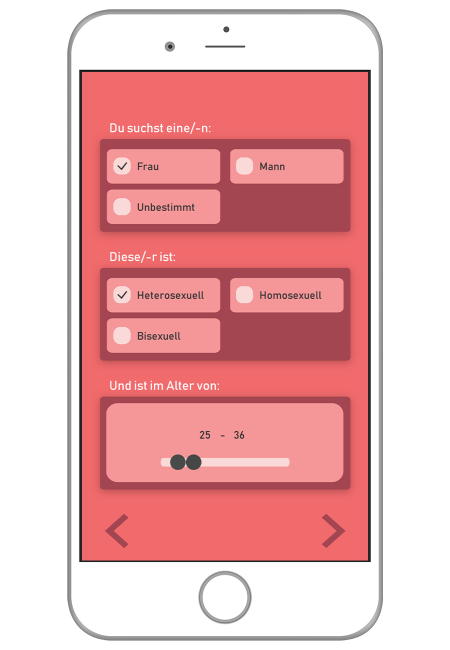 The matchmaking system is the main part to find a partner. For that a users don't have an image of this person or the choice to see they profile. The users can only listen to the voice recording. This voice recording is a question of a person. So the users can think about the voice and the matters of this person.
Also the c
ontent
give
s
the user
s
an easier entry
to
the conversation in the next st
e
p.
If the users voted three persons, they have the chance to listen their voice files again. Then the users need to decide for the person they wants to answer.
Why only one person? Because t
his is slowing down the experience. They
n
eed to think about which person is most interesting for them.
The last step is to contact this person directly with a voice message. The users answer with a voice message the question which the person asked or they can present themselves with an own idea. And maybe the other person answers back – it is a match.
"Voice Love" introduces another way of online dating. It goes without the visual aspects, like images or text messages. Therefore the personality can be at the front "Sprache hat eine größere Tiefe als Bilder."1 "Language has a more depth than images."1 Possibly the voice gives more intimate conversations and that without losing the anonymity. "Man könnte jemanden kennenlernen den man sonst nicht Kennenlernen würde."2 "It is possibly to get to know somebody you usually would not to get to know."2
You can
m
eet
s
omebody
in another
way
and have the choice
to break your dating pattern.
Maybe you find your true love, b
ecause like one says so beautifully:
"Listen to your heart"3.
1,2 from visitors of the Hoschschultage on the HfK 2017
3 Roxette – Listen to Your Heart