Nanda is a dating app that uses language to put your personality at the forefront of your dating experience according to the motto: bringing people together in a trusting and personal way. Conversation by conversation, moment by moment. Eight students have developed a design concept and a business model to realize this vision. The interdisciplinary team faced a lot of start-up tasks from design, marketing and public relations, business strategy, prototyping to the pitch at the Bremen Chamber of Commerce. The project was accompanied and supported by the Chair in Small Business & Entrepreneurship (LEMEX) of the University of Bremen.
I was the idea provider in this team and was thus largely involved in the conceptual design. Based on my "Voice Love" project and oriented on already existing dating apps, we decided to develop a decelerated, playful dating platform for long-term relationships or friendships. Getting to know each other on Nanda is designed step by step with several levels which are run through with the partner to unlock more functions gradually revealing the whole picture of the other person.
A playful and at the same time familiar acquaintance should be created through Nanda. Therefore start getting to know Nanda in a similar way as with other dating apps by matching. For this Nanda uses a reduced number of filters such as age, gender interests, distance, relationship or friendships. Unlike other dating apps, there are no pictures or profiles in the match, only voice messages that one can listen to. This way, the first impression is made by the voice and the content of the voice message. If two people match, they can activate the private chat and their audio profile for themselves. At the beginning only the voice message option is activated in the chat. If the people exchange often enough, the text chat is also activated and text information in the profile is unlocked. If the contact is well maintained, both get to the last level where they can exchange pictures and the entire profile of the other unlock. To ensure that this process of getting to know each other does not go too fast, both must agree before each "Level Up".
The team jointly developed a business module canvas and made a benchmark analysis. We decided to stand out from the mass of single and partner platforms as a playful relationship focused dating platform. We decided to start locally and expand slowly from city to city, so that the users can find contacts in their vicinity. The target group is people over 18 who are looking for long-term relationships or friendships. Thus we have a pool of 51.000 potential users in Bremen. The app should be financed mainly through advertising, in app purchases and affiliate marketing. The application itself should be released as a freemium version so that a large number of people can be reached. In App purchases could increase the number of contacts possible. Advertisements could also be done via audio instead of visual, as this fits the concept. A premium version would remove the ads and possibly add extra features, but would not have any advantages for partner search.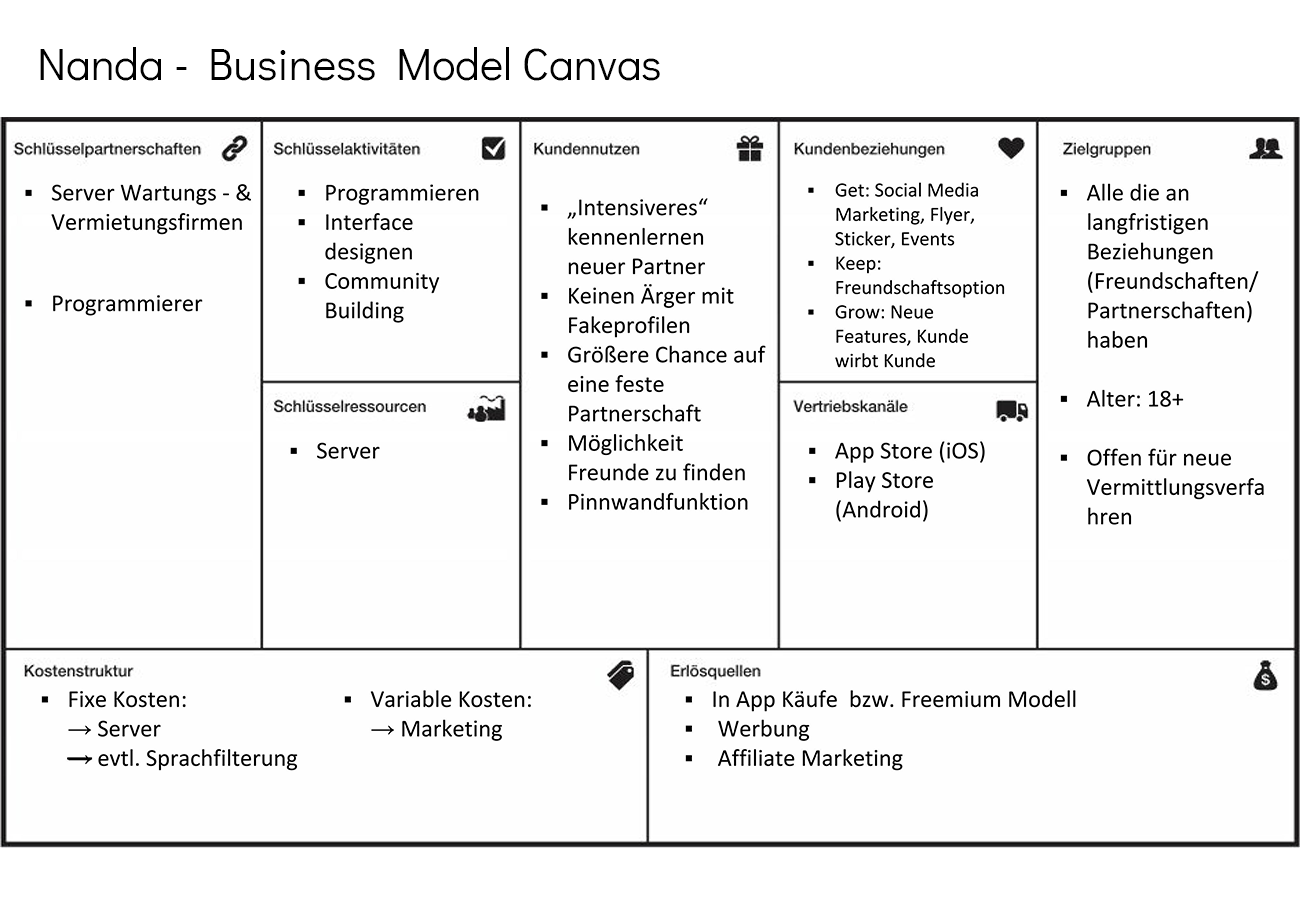 The Nanda application was initially developed for IOS. For this I designed the first drafts and mockup. The Nanda app has three main pages: the own profile, the match page and the contact page. At first a user account and a profile have to be created. The profile consists of several audio recordings and text information such as name, age hobbies and photos. To make the match easy and relaxed we have a few questions to help the user. On the contact page the user can find all people that matched. However, there is a limit to the number, so if there are too many matches, contacts must be deleted to enhance fewer but more personal relationships. Additionally we have created a landing page on which you can register. On this website nanda.love there is also more information about App.
I was also largely involved in marketing and public relations. We used many channels to make ourselves known in Bremen. One of the most important is our Nanda Facebook and Instagram page on how our events have shared progress and information about dating. We also appeared on regional radio stations like Energy Bremen or Bremen Next. For an article in the Weserreport Newspaper I was interviewed by the freelance journalist and writer Insa Lohmann. Additionally we distributed Flyer with QR-Codes for our Landing Page at the campus of University Of Bremen and University Of Arts as well as at cafés and bars.